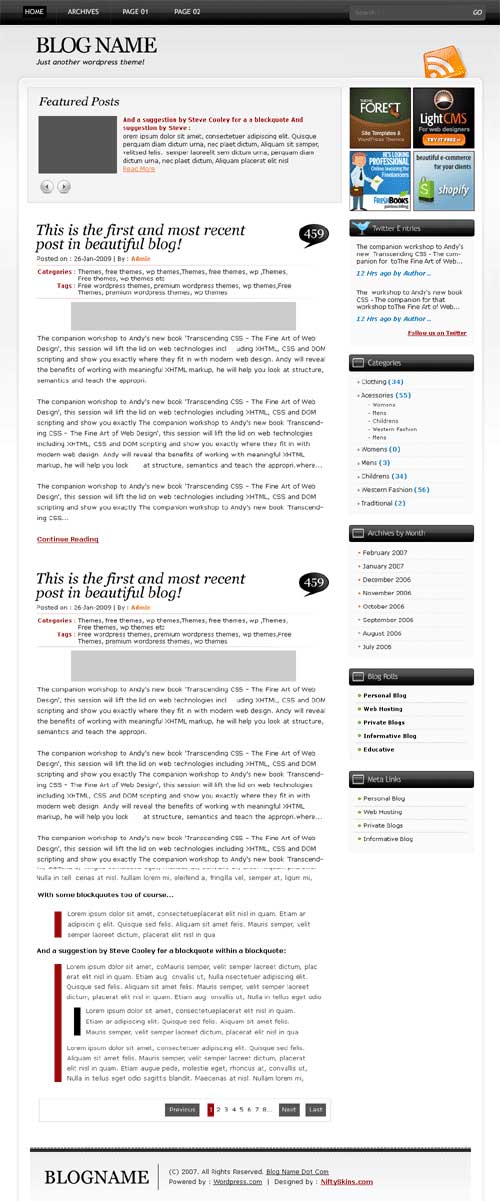 |
An ultra modern design. This wordpress theme has been designed to be viewed at 100% of your screen resolution. Its a 2 column design which is most definitely web2.0
If your looking for a theme to launch an online product or service, if you want your website template design to evoke the feeling of a cutting edge company, that is hip and understands internet trends then this design will work for you.
A strong black navigation bar at the very top of your page, that runs the width of the site makes the site very intuitive and user-friendly. Clear navigation is just one of the qualities of this free WordPress theme.
It has been designed with the webmaster in mind too, with room for four 125×125 Adverts and and additional 250×50 Advert. Simple effective use of colour with this black, white and grey theme that highlights your RSS feeds.
How to show featured posts?
Put all posts in a certain category and select this category as featured in theme options page.
How to show images in featured posts?
Create a custom field called "thumbnail" and paste a link to 163×119 image in its value for every post you feature.